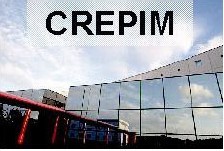 In June, 2011, CREPIM's technical director Mr. Poutch signed a cooperative agreement with FIRETC. CREPIM is ready to offer more professional and authoritative flammability testing services for companies in the Far East, especially in China.
CREPIM plays a major role in Europe in guaranteeing and approving fire-retardant properties of materials
Service Covered:Cars,railways,aircrafts,wires and cables,buildings,textile,furniture
FIRETC believes in CREPIM's undoubted professionalism and authoritativeness. CREPIM is acknowledged by the COFRAC, the Railway Certification Agency, the French Interior Ministry, the Bureau Veritas, the CRT, the SNCP and the RATP, and is also a notified body in the EU. All these interest and please Chinese enterprises, as in reality, there's a big gap between the fire resistance research achievements made by China and developed European countries. CREPIM's entry into the Chinese market will not only give FIRETC strong support, but also push forward the development of the fire resistance industry.