Hot Dipped Galvanized Welded Flat Razor Wire Fence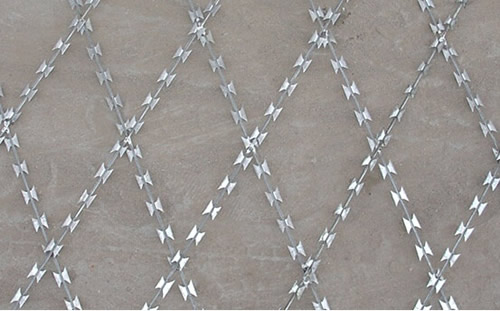 Hot Dipped Galvanized Welded Flat Razor Wire Fence is a multi-functional high security mesh fence made of straight welded razor mesh, packaging into rolls for transport.
It is used in protecting the field after installing a blade barrier, so welded razor mesh is to protect your property, and ensures the safety of the protective barriers. This kind of razor barbed wire fence is almost impossible to climb or cut off with the standard tools.
Flat razor wire is usually made of galvanized steel blade or stainless steel blade. Two pieces of stainless steel razor wire or zinc-coated razor wire can be bounded together by clips to make it stronger. The spiral intersecting barbed wire presents an intersecting shape after opening with beautiful outlook and practical property.
Flat razor wire is also named Tape Wire, Razor Tape Wire, Barbed Tape or Barbed Tape Wire. It can be installed to achieve the result of frightening and stopping to the aggressive perimeter intruders, with piecing and cutting razor blades mounted at the top of the wall, also the special designs making climbing and touching extremely difficult.
The razor wire can be used in coils or flat panels. Whenit is applied for fencing uses, it is extended and straightened, weldedtogether to form a flat panels. The razor mesh is a kind of galvanized weldedmesh fencing panel used independently as metal fences or for window protection.